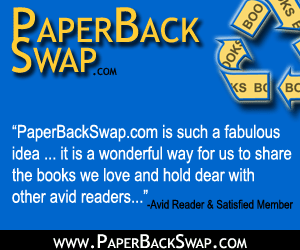 Have you heard of
Paper Back Swap
yet? It's been around awhile, but it's new to me and a really cool way to get books--free! Hey you can't beat free now can you.
Basically how it works is you sign up and then post your books---hardcover or paperback--and then for every book that someone requests of yours you get 1 credit to spend. Each book costs 1 credit. When someone requests a book from you, you pay the shipping. When you request a book from someone then they pay the shipping, so they figure it all works out in the wash eventually. A good deal I think!
When you join if you post 10 books then you get 2 credits to get started. I posted 10 books, got my 2 credits and then within 24 hours I had my first book request, so when that reader receives her book from me I get another credit to spend. Woohooo! I've been wanting the Elm Creek quilt novel series by
Jennifer Chiaverini
, so that's what I'm using my credits on and I already have my first 2 books ordered. I tell ya this is really fun! I think I'll go through the Misters books and see how many I can "trade". LOL!
Oh and if you decide to sign up if you'll click on the picture above or on the icon in my right sidebar and use "hazelruthe" as the referrer then I earn a credit for that and you can do the same thing after you join.
It's just one big happy circle of reading!